Safe and Secure Stands
Make sure that your fire extinguisher is always upright and easily accessible with one of our safe and secure stands. You will find our fire extinguisher stands to be strong, mobile and ideal for any building or construction site.
Extinguisher stands are effective when it is not possible or appropriate to mount fire extinguishers on the wall. This could be due to the risk of damage, the available height or other reasons. Evacuator extinguisher stands are built to look professional and pleasing to the eye while taking up minimum space and maintaining all practical elements that make it an effective fire safety point. This means being able to accommodate all sizes of fire extinguishers and making the removal of any equipment obvious so that it is addressed promptly.
There is nothing worse than being on a building site, noticing a fire breaking out, and being unable to extinguish it because your fire extinguisher has been knocked over and damaged. By using one of our stands, you can make sure that your fire extinguisher is kept in the same place, at all times so that everyone on site knows where to find it in case of an emergency. Better still, using a stand will help to protect your fire extinguisher from damage. It is illegal for a fire extinguisher to be placed on the ground without being placed on a stand. Our safety equipment will ensure that your site is always secure and compliant.
All of our stands have:
Durable and tough design

Are available in red or grey

Can be single or double

Are UK manufactured

Come in various alarm options

Bespoke Signage Setups

Company Branding Options
Plinths
Using a freestanding plinth is a great way to keep your fire extinguisher secure and upright if you do not have a lot of space. A plinth can fit just about anywhere and allows you to pick-up your fire extinguisher in a hurry without any fuss. Extinguisher plinths are placed to keep fire extinguishers off of the floor and to provide a clean and steady base. It is illegal to have a fire extinguisher sitting on the carpet or workspace floor so something a small as a plinth is necessary. Practically, it keeps the extinguisher firmly place and less likely to get knocked and topple over. It also has the benefit of being mobile and relatively cheap.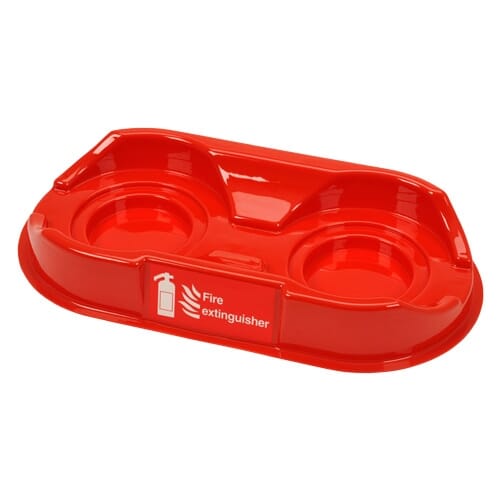 Fire Protection At Its Best
Fire Extinguisher Trolleys
For Safety On-The-Go
Fire extinguisher trolleys are perfect for ensuring that the whole of your site if safe and secure at all times. Trolleys allow for safe transportation of even the heaviest extinguishers, and come with rubber tyres which are well-suited to uneven ground. If a fire breaks out in a section of your site which is difficult to reach, a trolley will allow you to take your extinguishers to this area, and minimize the danger posed by the fire immediately. Crucially, trolleys also protect your extinguishers from the risk of damage. Our trolleys come in a range of shapes and sizes, with many bespoke options. If you need to be able to wheel several extinguishers, a water bucket, and a Co2 bracket on the same trolley, we can make one which accommodates your exact requirements. It's our job to make your fire points mobile, and your lives safer and easier. Wherever you work, our equipment will help you to prevent small fires from becoming major crises on your sites.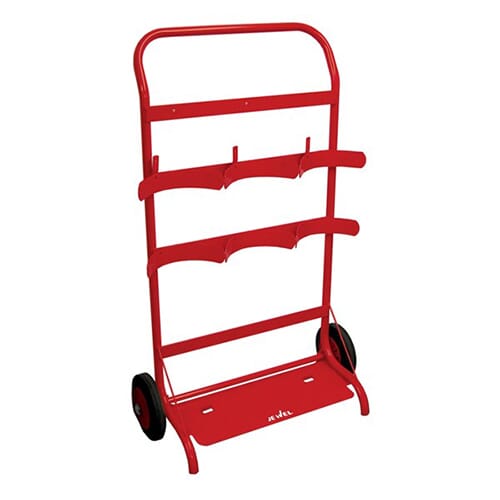 Fire Points To Point You In The Right Direction
The one thing better than a single fire extinguisher stand is a double stand which can hold two extinguishers. Our fire points are exactly that. They combine all the security and convenience of a stand, with accessibility to multiple fire extinguishers, should you need to respond to a serious incident or multiple incidents at the same time.
Imagine if you did not have a sufficient number of fire points on your site, and a fire broke out. Imagine if the alarms attached to your fire points were not loud enough for those working on your site to hear. Disaster could strike, simply because you bought a fire point off-the-shelf which was ill-suited to your environment. By completely customising your fire points to fit your site, you can prevent any such disaster from occurring. Over the years, we've helped thousands of developers make their sites safer, protect their workers, and prevent hazardous situations from ruining not just their site, but the lives of all involved.
To make your site even safer, manual call points can be added to our fire points. That way, if an automatic fire detection system would be unsuitable for your site, one person using the call point will set off an extraordinarily loud fire alarm, notifying everyone on your site, everyone walking near your site and the neighbours of the hazardous situation unfolding on your site. Complete with strobes these fire points are impossible to ignore.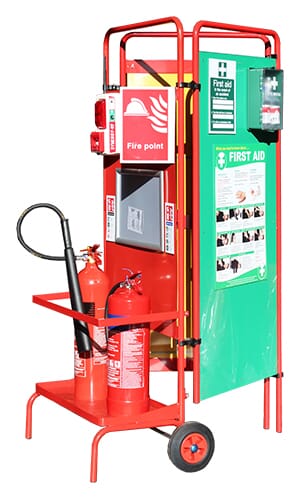 Made from hard-wearing plastic and aluminum, our fire points are stable, reliable and will protect your fire extinguishers from dust, spillages and all manner of other damage. The fire points are the most important parts of your site. Make sure that it never lets you down by contacting us today.
We can offer you a bespoke design which makes sure that your fire point is specially designed for your site, to make sure that every team working there is completely safe at all times. Every site is different. Different projects require different quantities of space, and therefore, customised, specially sized fire points.
We understand that you need a box which will keep your extinguisher separate from other items in your vehicle while being easily accessible, secure and durable. Our state-of-the-art boxes do just that. Buy one of our boxes now and drive knowing that your fire extinguisher will always be where you need it when you need it.
Fire Point Signs
Without proper signage, your fire point ceases to function, breaking all manner of legal regulations and compliance laws. A lack of appropriate signage puts everyone on your site at risk of serious harm, should the worst occur and a fire breaks out. Everyone has to know exactly where they can find a fire extinguisher so that any fire can be immediately contained and extinguished.
As all of our fire points are built with rubber tires, to ensure maximum portability, this signage can be moved anywhere on site, alerting everyone as to the location of your fire extinguishers. This is especially important should emergency services be called as they will need to be able to find these extinguishers immediately.
Having a sign to show you your assembly point is critical since if everyone is not accounted for, firefighters would have to go into a blaze needlessly searching.