Wireless Fire Alarm Systems & Equipment
Our wireless fire alarms allow you to scale up your system without the need for cables and additional works. Ideal for protecting large building sites, these wireless alarms can be constructed very quickly and modified as the building site evolves. They don't require a mains power supply as they are battery operated and their large range removes the need for any cables between them.
The flexible nature of this system means it can be used again and again in different locations and at different events. Evacuator Alarms manufacture and supply to some of the country's most reputable fire safety companies and professionals alike all across the UK. Our range of fire alarms incorporates functionality for fire detection and first aid. 
When Indoors wireless alarms have the benefit of heat and smoke detectors to compliment the manual alarms which can be fitted to ceilings and automatically set off the alarms if heat or smoke are detected. Text alerts can also be sent in the event of an alarm alerting select personnel even if they are not in the vicinity, the ability to silence the system with a unique code is also a benefit of integrating the text master with your wireless system.
In the event of an alarm when people need to evacuate, bottlenecks slow down the evacuation process and can cause injury if too many people are pressed into one area. When an alarm is raised you can automatically trigger turnstiles to spin freely preventing a bottle neck at entrance's and exits.
Wireless fire alarm technology has come a long way and brought with it lots of popular features and benefit rich products. So are wireless fire alarms the best solution for your business premises? Let's deep dive into the technology to answer that question. If you are just looking for products you will find them at the end of the guide.
Then and now
Evacuator Alarms have been manufacturing fire alarms for decades and in that time we've got an insider's view of how the products in the market have developed. Wireless fire alarms did start out with a bad reputation over 30 years ago since the technology experienced hurdles when it came to battery life and wireless signals. It should come as no surprise then that today in 2019 wireless tech is so reliable you can stake your safety on it. Significant advances have also been made in battery life which has led to more commercial wireless fire alarm systems being used on business premises.


Ok, so how exactly do wireless fire alarms work?
The way wireless alarm systems work is based on wireless radio signals which are transmitted to and from individual units throughout your premises. A fire alarm control panel or *base station* is at the heart of the wireless fire alarm system and is where a lot of the automation occurs. The units that communicate with the control panel are varied and so you will want to consult with your fire safety professional before installing anything.
For the user there it is no different to using a hardwired system when a fire breaks out. They instantly recognise the red alarm, break the glass and then the alarm sounds as a signal is sent to the control panel. This means you don't need to provide specialist training for your staff and you can be up and running in no time.
Call Points
The call point is a small box mounted on the wall where everyone can easily see it and raise the alarm in the event of a fire. When selecting a call point as part of your system you will want to make sure it is CE RoHS and EMC compliant and that it is independently tested.
You will also want to look out for the little things, such as an alert if the battery ever ran low or plug and play installations that will make your life much easier.
Smoke Detectors
Wireless Smoke alarms can work in synergy with call points and other wireless units. We are often asked, "are wireless smoke alarms reliable?". They are ideal for fast flaming fires and since they trigger an alarm when there is smoke they are for indoor use only. They are designed to be ceiling mounted and so this will play into your decision when building your system.
Heat Detectors
This is the ideal complement to a fire alarm system that relies on a lot of manual call points. Since they use heat to trigger the alarm they are suitable for indoor use only. It is worth remembering that technically, heat detectors and heat alarms are different. Not many detectors will actually sound when triggered, instead, they send the instruction to specialised units to alert the whole building.
Sounders & Strobes
We don't need to stress the importance of these types of alarms. They are responsible for alerting people to the danger and starting the process of evacuating the site safely. The best alarms of this type combine both high decibel sounds and bright LED strobe lights. Not only does this combination do a better job of alerting people but it means those who are visually or hearing impaired can receive the same early warning.
First Aid
A first aid alarm is very different in its use to a fire alarm. For one thing, the whole building does not often need to be evacuated when a call for first aid goes out. Having a sympathetic fire alarm system that allows for more than one type of alarm is a bonus and should be considered when planning for any installation.
Text Master
Being alerted via text message or similar means when an alarm is triggered as well as being able to shut it off with a simple text response has obvious advantages. These units are less common and not appropriate for every user so it is important to consider whether this is compliant with your own fire procedure.
Are Wireless Fire Alarm Systems right for me?
As with most things, there is a trade-off between wireless and hardwired fire alarm systems. Let's start with the positives.
We established that they are just as reliable

Cheaper to install

No wires mean a quick and easy installation

Powercut proof

Minimal disruption

Useful to extend existing systems

No damage to the property

Ideal for locations with limited access

Very adaptable. Systems can be extended, reduced or reconfigured as needs change

Reusable for other sites
What should you consider before buying a wireless fire alarm product?
The cost of the product itself is more expensive due to the hardware requirements though, in the long run, it is often cheaper.

While batteries offer versatility and reliability during a power cut they require changing from time to time and checking, not unlike how you would check a smoke alarm in the home.

There are often limits such as the max amount of units in a system or the max range. For our part, we can accommodate 40 units to a system.
Decision time
That is a lot of information, so let's sum it up in a sentence. Wireless fire alarms systems are great for almost every location, reusable, reliable and scalable but all this comes with a higher price tag as you might expect.
With that in mind try asking yourself if it is more important to get the system setup fast and efficiently or for a cheaper price?
Does your location have inaccessible or hard to reach points which need to be covered?

Are there any restrictions preventing you from hardwiring into the walls?

Are unsightly wires detrimental to your location?
If you are still unsure whether this is the right solution for you or would like to know more than this guide covers then give us a call on 0845 130 7258 or send us an email.
This is a fire and first aid alarm system that can incorporate multiple call points from heat detection to first aid alerts and a control panel for temporary fire cover during construction works.
An easy solution that is fully compliant for use on construction sites.

A low-cost system. Extended battery and replaceable components.

We are the manufacturer, get it straight from the source.

Simple to configure and reuse

Reliable wireless technology

Durable and robust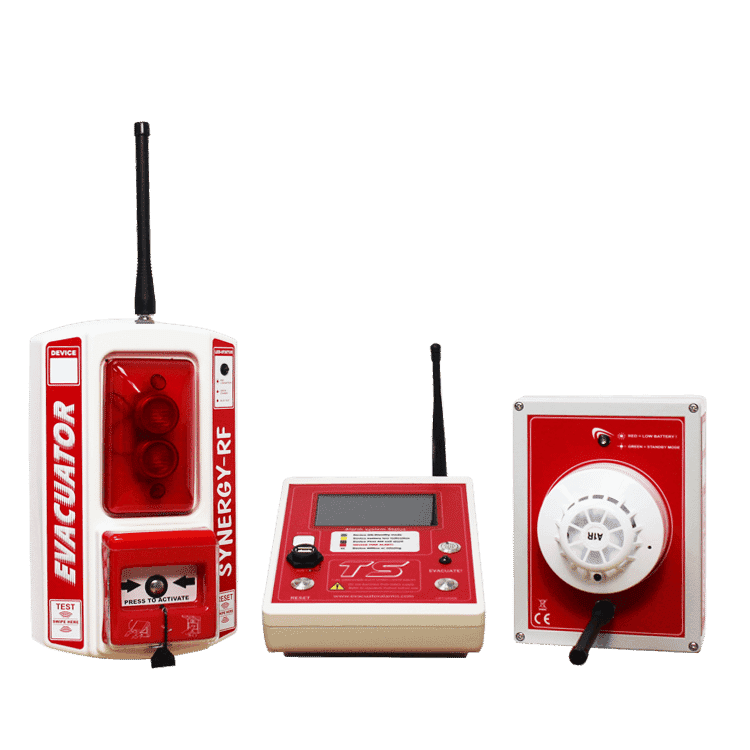 Get the most from your Wireless Fire Alarms
Interior and Exterior alarms can be mounted using easy fix mounting boards. Fit the alarm to the board and fix the alarm for the application.
Using the mounting board makes moving alarms from one location to another quick and easy by removing the need to take the front cover off the alarm to access any fittings. This is very useful in applications where the alarms are installed on a temporary basis such as events for music or food.
Mounting boards are the perfect complement to wireless alarms by removing the restrictions on where you can safely fit them.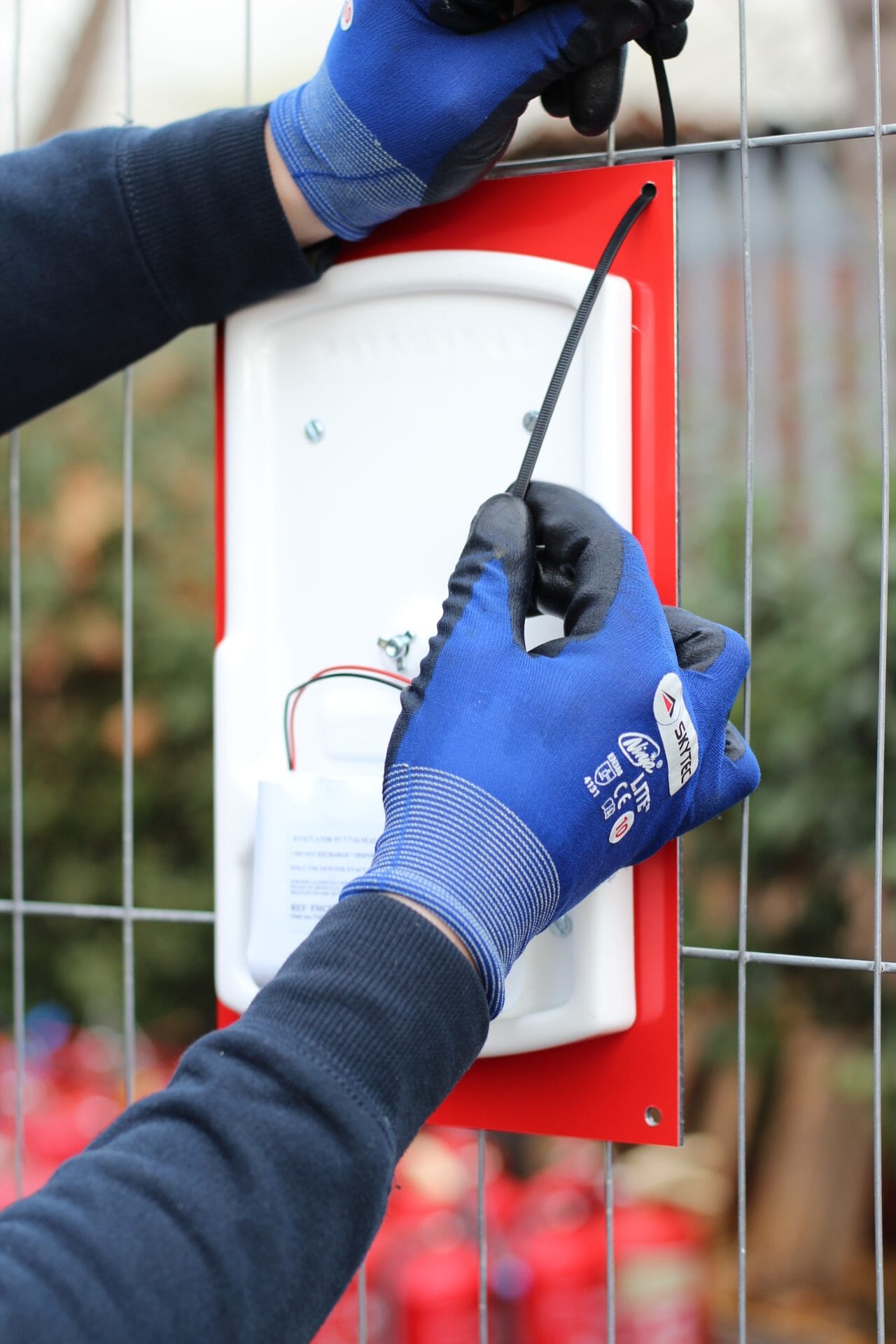 Reasons Why You Should Choose Evacuator Alarms
Industry Leaders
With over 20 years of experience, we are a proud family-led business that has been supporting businesses across the UK with their fire safety needs in a quest to build safer environments.
British Manufacturers
Made in the UK, our products are compliant with the industry regulations, standards and latest changes. We make sure we deliver only the best quality to all of our clients.
Latest Technologies
Continuous development is at the core of our business in order to provide the most reliable models available on the market.
Quality
What makes us stand out is the delivering impeccable customer service and exceding client's expectations. That's why we always make sure we have sound systems in place that are secure, strong and reliable
What is a fire alarm system?
A fire alarm system is a number of devices, both visual and audible, which detects and triggers an alarm to warn people when smoke, fire and CO2 are present.
What is the Regulatory Reform (Fire Safety) Order 2005?
The Regulatory Reform (Fire Safety) Order 2005 is a regulation within England & Wales which instructs and places responsibility on individuals within an organisation to carry out a risk assessment to reduce the risk of fire
What is BS-5839 Part 1?
Is a standard published by the British Standards Institution for Code of practice for design, installation, commissioning and maintenance of systems in non-domestic premises. You can view a copy here
Why do I need a fire alarm service contract?
Service contracts ensure all your fire alarm systems are run at optimum levels in case of a fire emergency, offers peace of mind to companies and ensures the safety of company staff.
Why should my Service Provider be BAFE approved?
By being BAFE approved, your service provider is showing that they are happy to be independently assessed and meet the required fire safety standards required by law.
Why do I need a minimum of 2 visits per year?
According to Fire Safety regulation, BS 5839, recommends that your system should be tested/inspected every 6 months. They could get damaged in between maintenance visits, if your system is in a school, for instance, school kids could mess or play with the alarm system or become damaged. We recommend twice-yearly mainly just for peace of mind and you can relax knowing that your fire alarm system is functioning at optimum capacity.
Will an engineer's visit disrupt my business?
We always try and keep disruptions to a minimum. Unfortunately, sometimes there are instances where we will need access to key areas to carry out work, but we will always try to give notice where this is the case.
How often should I test my fire alarm?
Fire alarms should be tested every 6 months.
How long do the back-up batteries last for the fire alarm panel?
Backup batteries can last anywhere between 3 – 5 years depending on the type of system and batteries in place.
What is the life expectancy of a fire alarm?
On average, a fire alarm should last 10 years, after this point, it will start to lose its sensitivity and should be replaced.
How many fire drills are required by law each year?
In order to maintain good fire safety in the workplace, it is recommended that you complete at least one fire drill per year.